Antonio, Saidy, Freddy, Doris (mom), Denise (baby), and Xavier Gutierrez (left to right)
Antonio Xum Gutierrez is a straight-A student at West Rocks Middle School in Norwalk who plans to study engineering in college. But whenever schools are closed due to COVID-19, he has to miss his favorite class, math.
That's when his 8-year-old brother Xavi takes a turn using their mother's cellphone hotspot, which the boys share throughout the day to connect to remote school. Meanwhile, their older brother Fredy and sister Saidy use their personal cellphones to log into virtual classes at Norwalk High School.
"The phone only allows one computer at a time, so my brother goes first and I go second," said Antonio, 13, speaking in Spanish. "Sometimes when my math teacher is explaining the assignment, I miss that part."
The overarching challenges posed by a global, unpredictable, and deadly pandemic can feel vast and overwhelming. But for many children, it's the workaday practicalities that can knock their studies off-course. Antonio's big sister Saidy, a sophomore who plays on the high school soccer team and wants to be an architect, said her home internet service made a big difference in her attendance and her grades.
Using her cellphone to connect is hard, she said. "We are trying to do our assignments and the internet just doesn't work. I hand in my work late, but sometimes the teachers deduct points. My grades can go down."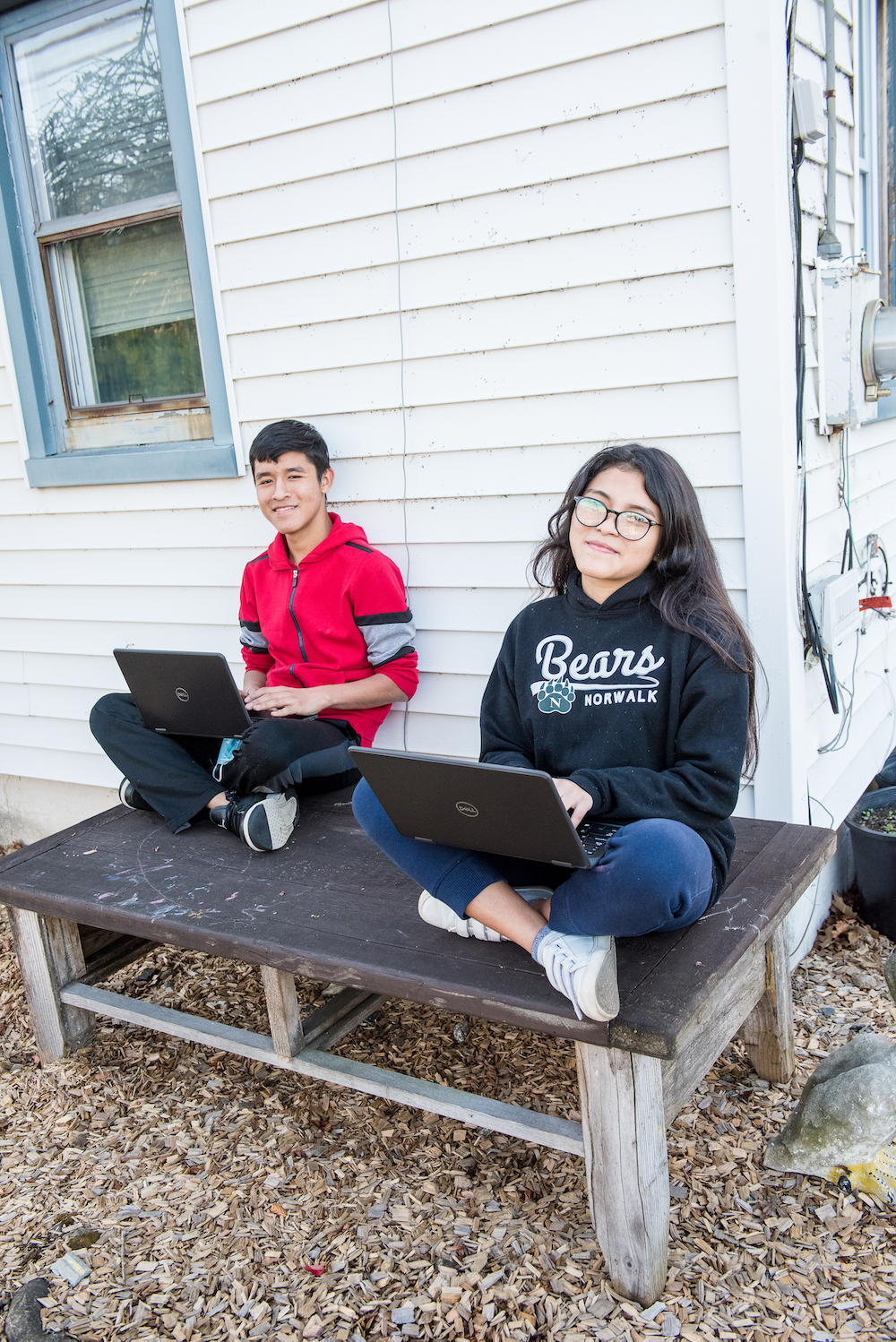 In Norwalk, an estimated 7-8 percent of families lacked access to reliable, high-quality internet service at the outset of the pandemic. City leaders and a group of funders, led by Dalio Education, joined together to provide a year of free broadband service to 220 families, along with digital literacy coaching and additional social-services support, and to connect 258 students to free public Wi-Fi. Dalio Education also is supporting a larger-scale effort to expand connectivity in Hartford, with the goal of providing free, citywide Wi-Fi.
"We knew we had equity issues in Norwalk, but then that March 13th date hit," said Ralph Valenzisi, chief of digital learning and development. "The flashlight could not have been shined more clearly this year. We need to look at the whole child."
"One of the most urgent and immediate needs we were hearing about from all of our school and district partners was that many students lacked the devices and internet access that are essential for participating in remote or hybrid education," said Barbara Dalio. "We knew we had to act quickly in response, working together with other foundations and city, state, and educational leaders."
With the support of Dalio Education, Norwalk Public Schools updated, replaced, and added new computers to its supply, providing every student and teacher in the district with a device to take home. Still, attendance was a problem—in the spring, some 7 percent of students were absent each day. At Norwalk High School, the absentee rate among English Language Learners like the Gutierrez children, who moved to Connecticut from Guatemala last year, was around 30 percent, according to Carola Osses, the English Language Learner Department chair.
School counselors surveyed families and found the overwhelming issue was a lack of reliable internet access at home, which inspired the connectivity initiative. Students had hotspots, but they were prone to glitching and sudden drops in service. The district also staffed a new digital learning department and added a bilingual online helpdesk.
"We didn't want to just email students assignments and have them submit their work. We were looking to do live instruction, which means streaming video back and forth on a regular basis," said Valenzisi. "And to do that, to keep students engaged and connected, they need to have higher-quality access than just a cellphone."
For the Gutierrez family, the start of the school year went relatively smoothly: new broadband internet was installed in their home in August, and most of the children were attending school in-person at least part of the time through most of the fall.
"The internet was really useful," the children's mother, Doris Gutierrez Guzman, said in Spanish. "Having good grades, finishing school and graduating, this is the big goal."
Then in October, the family moved to a new home without broadband service. And in November, as the number of virus cases grew, Norwalk started closing more of its school buildings. It was nearly Thanksgiving when the children started to miss class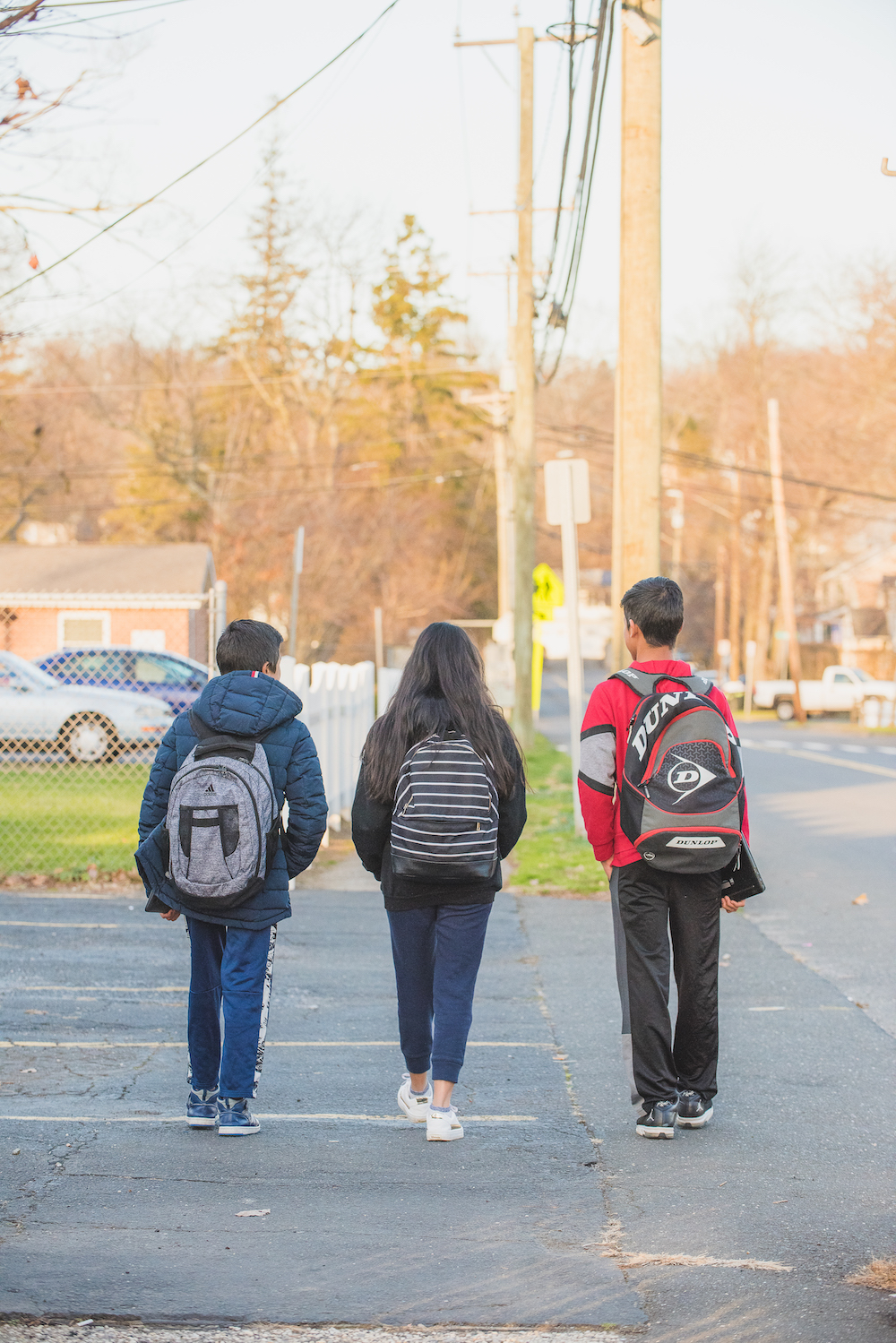 and hand in some assignments late, because slower, less reliable connections meant they were constantly knocked offline. Fredy, 16, said that although he finds it difficult to concentrate at home, having fast internet service makes all the difference.
"I learn more in school, because it's more distracting at home," he said. "Without internet my grades started to go down."
Counselors eventually learned that the family no longer had reliable internet service at home and arranged to have the service installed at their new address in December.
"These students are very resilient—they will try to figure things out, they don't want to bother anyone to ask," said Osses. "But the broadband is just a tremendous opportunity for them. We know now that we can actually teach effectively through remote learning. Having the ability to use remote platforms and the ability for all students to join and continue in school, without having a gap in their education, it's just so valuable. Hotspots can work sometimes, but they just can't replace broadband."