Cristiaan Aguilar, Spanish Teacher, Bennie Dover Jackson Middle School, New London
The emotional burdens of a long, uncertain pandemic have been heavy for students and teachers alike. Yet as caring adults committed to keeping students on track, teachers are mission-bound to remain steady and supportive no matter what challenges they or their communities face.
For middle-school Spanish teacher Cristiaan Aguilar, that means keeping things as normal as possible—whether he's teaching alone in front of a computer screen or in a classroom, masked and at a distance. No matter what, he said, a teacher's job is to keep kids connected.
"We might not be in charge of everything that is coming our way, yet we're still here," he said. "And that means you are still in school, you are still talking with Mr. Aguilar, and he's still telling his awful jokes. We are still together. That continuance of structure helps them ground themselves and get a hold of what they can control: their homework, their time, how they connect to others."
Aguilar is bringing that same sense of perspective to his life both at work and at home, he said, after completing "Social and Emotional Learning in Times of Uncertainty and Stress," a new online course developed by the Yale Center for Emotional Intelligence in partnership with state education and teachers union leaders and Dalio Education.
"It put into perspective the variables that I work within, and what I can and what I cannot control," he said. "As a teacher, I want to be in charge of my classroom. But in the situation we're in, the variables and the constraints are beyond our control. So we have to have a different take on what we do. It may not be exactly the way we like it or the way we want it. But what we do in this context, how we teach, live, interact with our students, that's up to us."
Dalio Education's grant to Yale made the course available at no cost to all preK-12 Connecticut educators, as part of a longstanding commitment to teachers' professional and personal development, with a focus on social-emotional learning. Dalio Education believes in the transformative power of teachers to inform, inspire, and uplift their students, and is motivated by the knowledge that social and emotional development is a critical driver of both student and teacher success.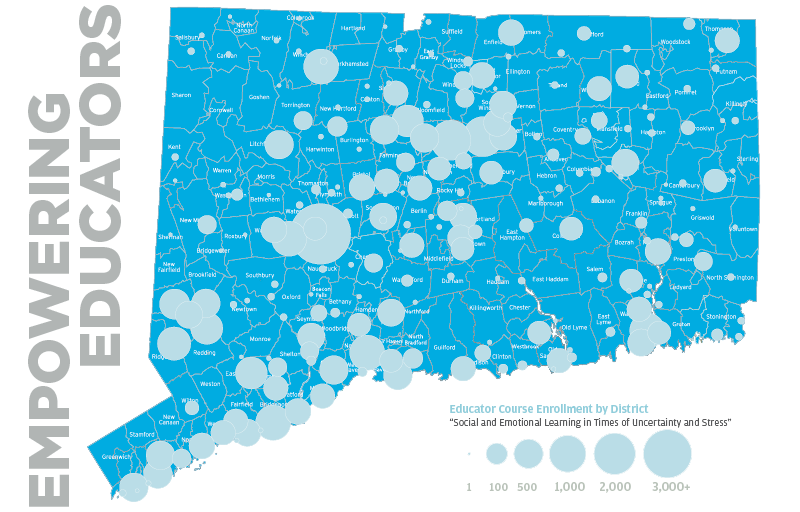 "The idea for the course started through a conversation with union leaders, who shared their worries about the stress teachers were experiencing. We wanted to do something practical to support them," said Barbara Dalio. "We brought state leaders and our partners at the Yale Center for Emotional Intelligence into the conversation, and everybody came together so fast around the idea for the course as a way to help teachers take care of themselves and their students during such a challenging time."
"Research shows that where there is an emotionally skilled adult present, students focus more, disrupt less, and perform better academically," said Marc Brackett, the founder and director of the Yale Center for Emotional Intelligence. "These adults also have lower levels of stress and burnout, fewer intentions to leave the profession, greater job satisfaction, and more engaging classrooms."
These insights resonated with educators throughout the New London Public Schools. "We cannot support the social-emotional health of students if we don't address it for teachers," said Carrie Rivera, school psychologist department head. "I've heard a lot of positive feedback from staff ranging from, 'I've never taken time to stop and think about how my emotions and self-regulation impact my own learning,' to how they are applying this to their own students and children."
For Aguilar, managing stress and keeping balance takes the form of regular practice sessions in front of his piano. After taking the course, he vowed to take "specific time for myself, to decompress and make sure I am re-energized," he said. "It's a conscious and willing break. No one else is going to do it for me."
He also cues his students to take small check-in breaks to reflect on their feelings, carve out time to participate in favorite activities, or simply visualize a sunny day at the beach if they need a boost. The course provided "a very tangible way to assess myself and teach students to do the same," he said. "It speaks to the importance of reaching within before reaching out."