Jennifer Straub, Principal of Maloney High School, Meriden
On a chilly November Tuesday, 100 freshman students and families gathered outside Maloney High School in Meriden. For some, it was the first time they had ever stepped foot on campus.
Masked counselors and school leaders waved broadly as they welcomed families, auctioned off gift cards, and handed out Thanksgiving- ready pies. They also talked up graduation requirements, "on-track" status, afterschool credit-recovery programs, and the in-depth counseling services on offer. Every student left with a folder of information, including a QR code to seamlessly contact their guidance counselor with a cellphone camera, and a "Class of 2024" t-shirt.
Pandemic or not, the clock is ticking for 9th-graders. Freshman year is an especially vulnerable time for students, who are most likely to become disengaged and disconnected amid the tough transition from middle to high school.
"If I can keep my freshmen engaged until sophomore year, they have virtually no issues as juniors or seniors," said Maloney Principal Jennifer Straub. "But the whole concept of earning credits and making sure you have enough for graduation is a heavy lift for a 14-year-old. We engage them, connect them to the school, build positive relationships, and show them that hard work pays off four years down the road."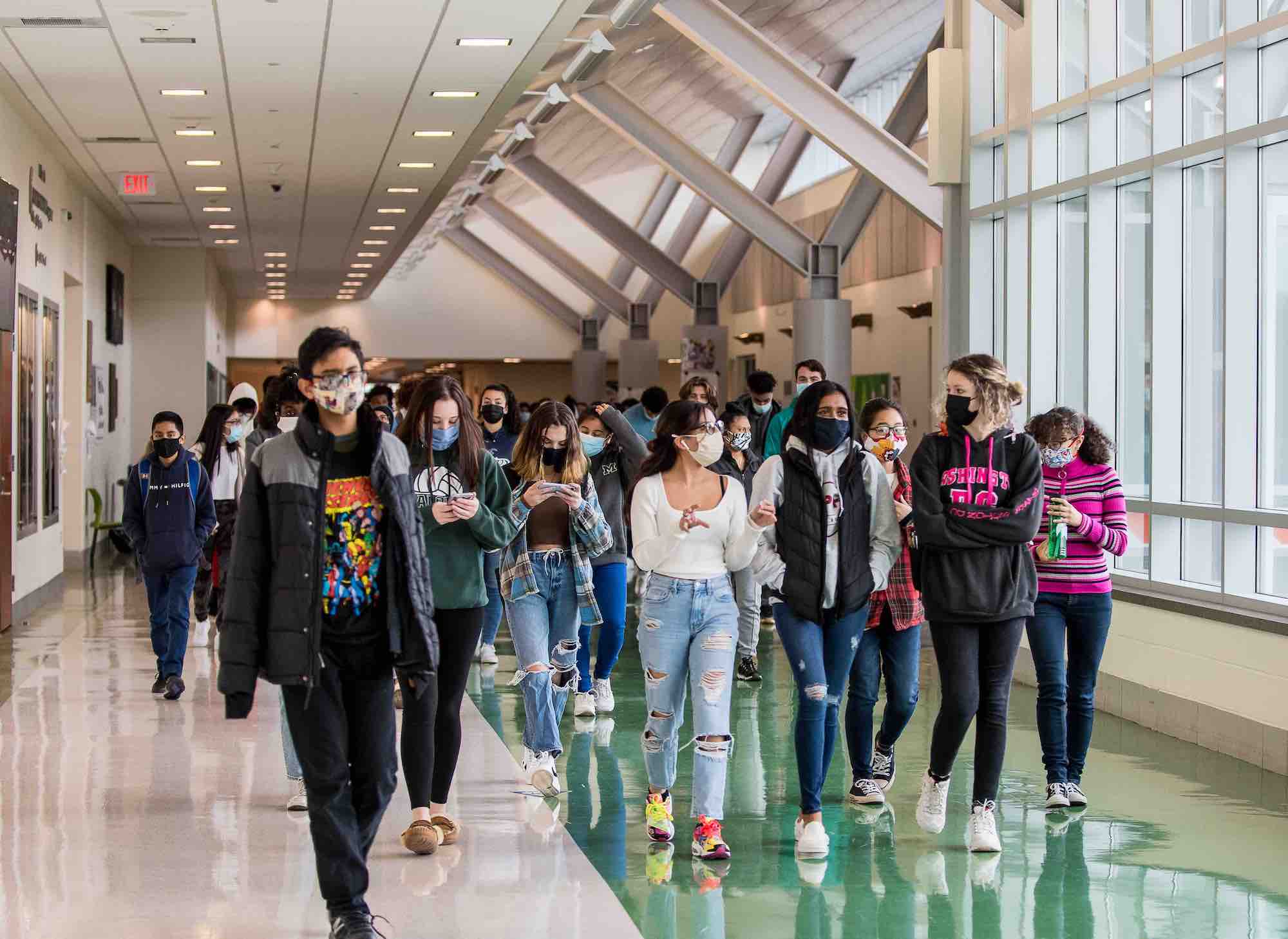 The "Thankful Tuesday" event was part of a longstanding focus on the 9th grade transition in Meriden Public Schools, one of nine urban districts in the Connecticut RISE Network. Co- founded by Dalio Education in 2015, RISE provides a host of supports, such as data analysis and technical assistance, professional learning opportunities, and a community of school leaders who share strategies to ensure all students earn a high-school diploma. The network also supports two additional counselors for each partner high school—9th-grade transition specialists who are assigned small caseloads of at-risk students. Counselors and school leaders have developed creative ways to connect students and families to the school early on, such as a summer school program for incoming freshman to get a jump start on 9th grade, September pizza party for families, and in-person on-track meetings.
Those efforts have paid off: the percentage of Maloney freshmen who are promoted to 10th grade on time is now 97 percent, compared to 74 percent in 2012-13 school year. From there, students typically go on to graduate on time. But many of those trusted outreach tools are unavailable in a pandemic, with students attending school half-time or learning remotely at home. In addition, many Maloney families are contending with housing and food insecurity, Straub said.
And so, before learning could even begin, district and school leaders had to master logistics like distributing food, bringing students' technology online, and restructuring building rules to promote social distancing. While those were relatively straightforward, thornier challenges like engaging students not attending school onsite, establishing equitable grading rules during a pandemic, and setting reasonable expectations for parental support are more challenging. And at the core of those efforts is resetting daily duties and expectations for a staff of over 100—a behind-the-scenes management challenge that Straub said was achievable thanks to years of professional learning, data analysis, and practice through the RISE Network.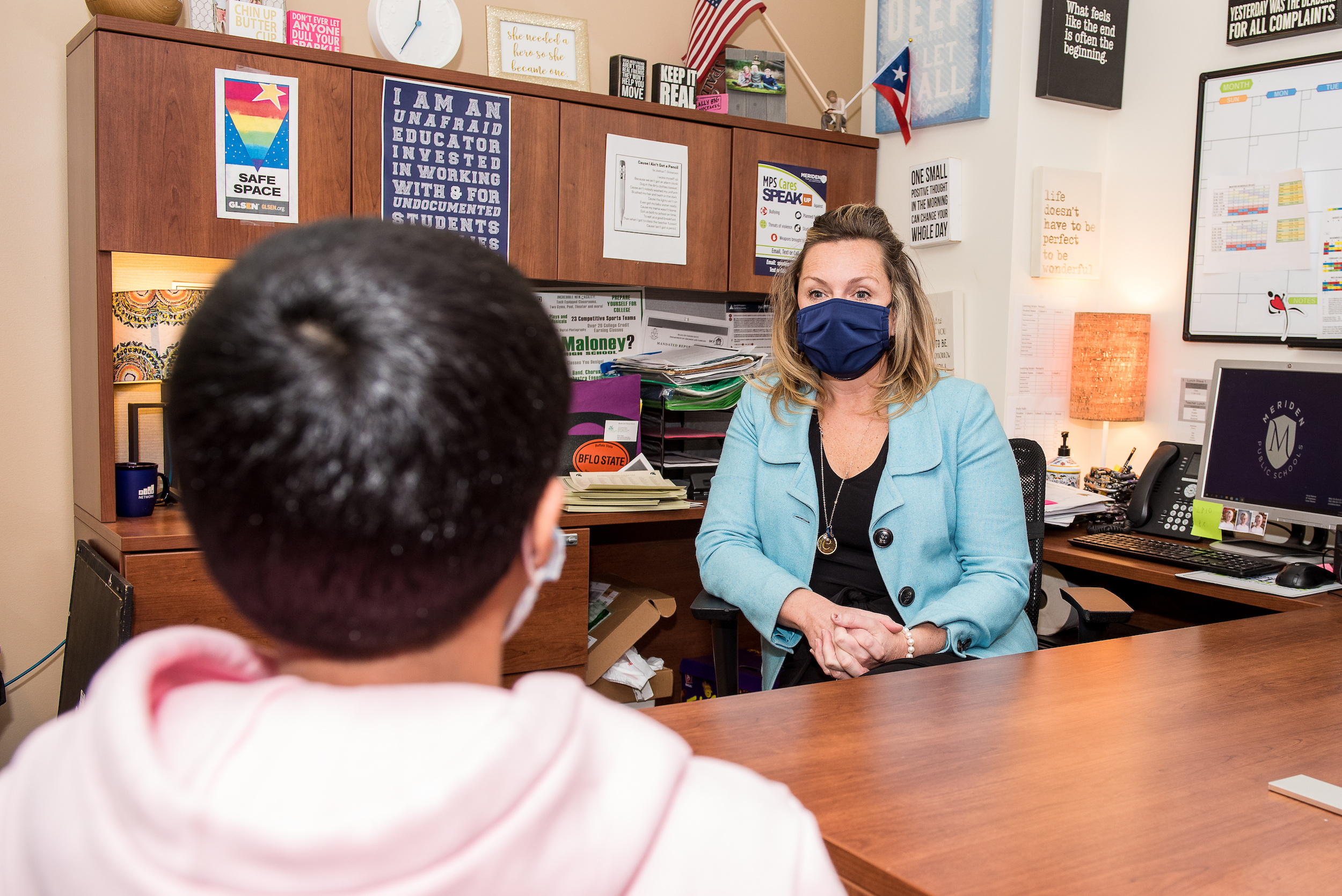 Teachers and counselors are focused on "creative solutions" to whatever challenges students face this year, said Christine Fenn, a 9th-grade transition specialist. Maloney is offering after-school tutoring for students who have gotten off to a slow start, with different learning cohorts scheduled for different days. On Halloween, counselors and 9th-grade teachers hosted "Get It Done Saturday," a make-up session for freshmen in danger of failing a class. One student, a remote learner who had never been in the building, started the day with failing grades in three classes and brought her Algebra grade up from a 20 to a passing 65 in the space of a few hours, Fenn said.
Remote students are especially struggling, said Fenn, because many of them are supervising younger siblings during school, while parents are at work. Through RISE, Fenn and her colleagues regularly consult real-time data about student attendance and academic performance and target support, like calls home or teacher conferences, right away. RISE school support staff also created assignment trackers for remote students at a teacher's request to help students stay on top of their workload.
About 90 percent of this year's freshman class was on track at the end of the first marking period, which is lower than usual, said Fenn. But creative supports are bringing more students up to speed, with counselors now regularly showing up in classroom breakout rooms on Google Meet to foster connection, holding open-door office hours every afternoon for academic or tech support, and more than 50 home visits by the principal to make contact with the families that, so far, have been hardest to reach.
"The collaborative with the RISE Network keeps the work moving," said Straub. "No matter what else you are tackling, it always brings you back to: what is the opportunity for the kids?"