Research & Evidence
to Inform our Efforts to Engage Young People
It has been seven years since we published Untapped Potential: Engaging all Connecticut Youth, which reported on the demographics and risk factors of young people who are off-track or disconnected from school and employment in Connecticut. In the meantime, the Covid pandemic has disproportionately affected these young people, and the extent of the impact is not yet well understood.
To better understand the realities faced by young people who are off-track and disconnected, and to identify ways non-profits, agencies, and communities can work most effectively to support young people in achieving success, we have three major research projects underway through the Connecticut Opportunity Project and expect to share new insights by Fall 2023:
Who Is Impacted
Quantitative Research to Update Untapped Potential
Identifying demographics and risk factors for youth 14-26 who are or may become disconnected from school or work.
Research by Boston Consulting Group
What They Experience
Qualitative Research to Understand the Lived Experiences of Young People Who Are Disconnected
Illuminating the experience of young people to understand their actual needs and help us meet those requirements.
Research by Community Science
How We Can Help
Scan of the Evidence Base of Effectiveness for Achieving Meaningful Outcomes with Disconnected Young People
Discovering the program elements and practices that are effective in helping disconnected young people improve their lives.
Research by MDRC
Previously Published Studies
Untapped Potential: Engaging All Connecticut Youth
Published in 2016, this report identifies demographics and risk factors for young people who are off-track or disconnected, key barriers to high school graduation, strategies to help young people regain momentum, and how our society stands to benefit if we can unleash what Connecticut's most resilient youth have to offer.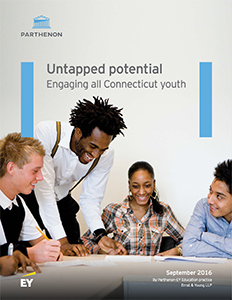 A Nation at Hope
Produced in 2019 by the National Commission on Social, Emotional, and Academic Development, this report makes a definitive case that preparing students for success in school, career, and life requires educating the "whole child" by teaching social and emotional skills in addition to academics, as well as cultivating safe, supportive environments.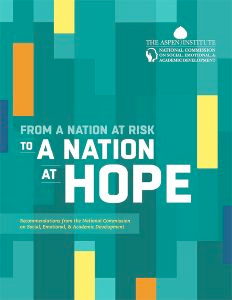 The Digital Divide in Connecticut
Published in 2020, this report uncovers that nearly one in four Connecticut households did not have high-speed internet at home before the COVID-19 pandemic, with connectivity deficits falling hardest on low-income households in the state's largest cities, as well as on older adults and communities of color. Permanently closing these gaps for everyone is a policy challenge that will require a range of stakeholders across the public and private sectors to work together.