Connecticut's Unspoken Crisis
Connecticut has an unspoken crisis—one that impacts every city and town—and it's time it gets the attention it deserves.
In 2022, one in five of Connecticut's young people were either at-risk or disconnected. These are 119,000 young people who have either dropped out of school or are in danger of dropping out of school, and who are, for those aged 18 to 26, unemployed and in many cases unemployable. To learn more, download the full report below.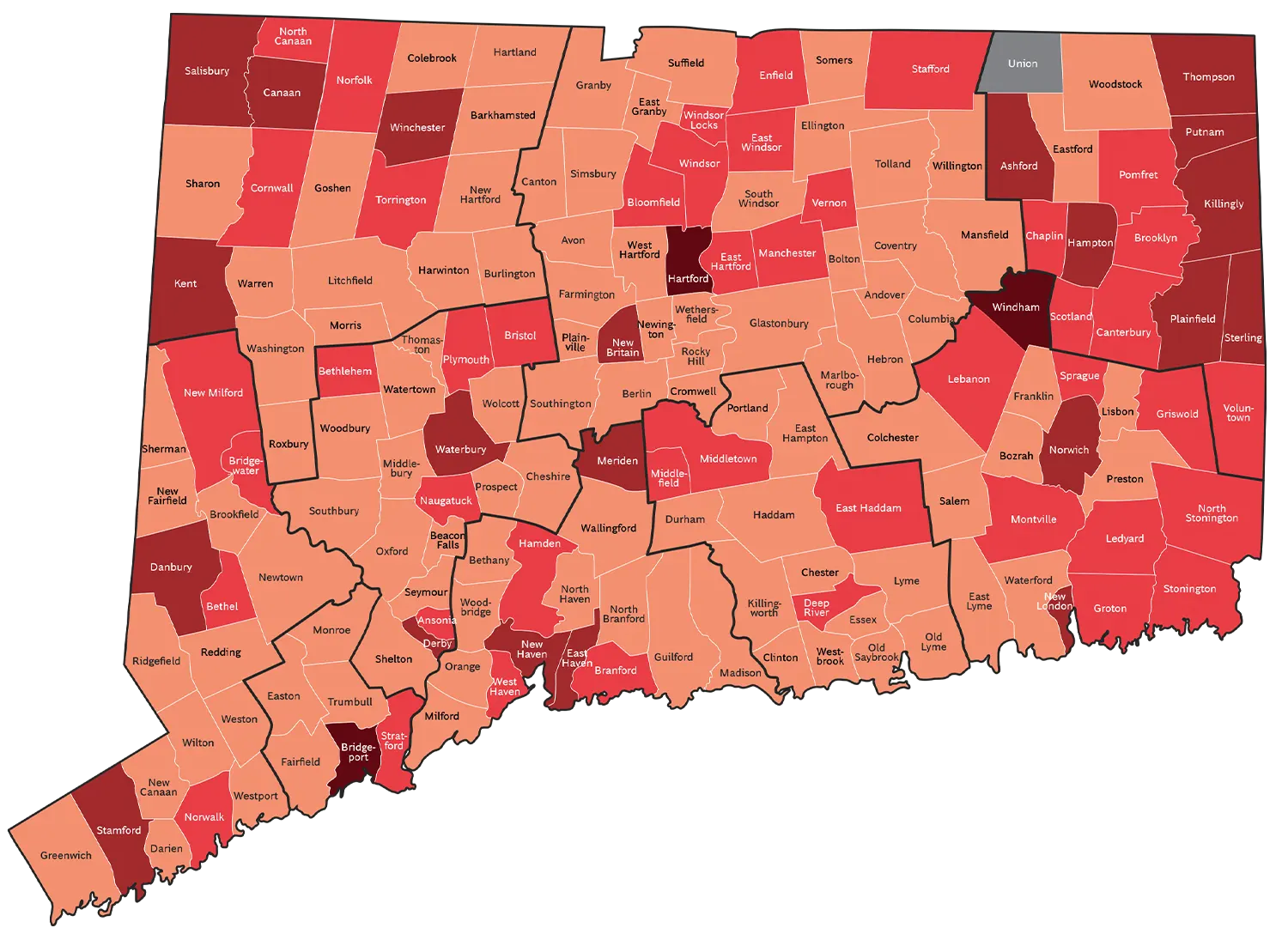 The Statewide Crisis
The most recent data is alarming: 119,000 or one in five Connecticut 14-26-year-olds are at-risk or disconnected. Moreover, at-risk and disconnected young people are present in every single Connecticut town, not just the urban centers, demonstrating the pervasiveness of this issue and mounting need for all Connecticut stakeholders to act.
119k of CT young people disconnected or at risk in 2021-2022
The Economic Impact
This crisis will continue to have significant costs for taxpayers. By helping today's 63,000 disconnected young people to get back on track, Connecticut would save $400 million in costs and realize up to $350 million in additional tax revenues annually.

$650 to $750 Million impact on CT's taxpayers
At Risk of Not Graduating High School
If the current trajectory continues and no action is taken, the count of at-risk students could remain elevated. Today's high school students who are at-risk have the potential to become tomorrow's disconnected young people, so timely intervention is especially critical.
1 in 3 CT high school students are at-risk of not graduating
Disconnected from Education and Employment
In 2022, there were 63,000 disconnected young people across Connecticut with limited connection to employment and education, of which 12K were severely disconnected, meaning they are not employed/enrolled in a workforce program nor have attained a high school diploma or equivalent.
63,000 young people disconnected from education or employment
Report Recommendations
For more than a decade, we have worked closely with educators, non-profit leaders, and many others who serve young people who are off-track or disconnected. We know from our personal experience that Connecticut is home to thousands of heroes who are already doing so much good for young people. But we also know that heroes need help, and that more people must join in the effort to address this statewide crisis. The report offers several recommendations.
Improve school district data systems and practices to identify and support at-risk students

Publish annual reports about at-risk and disconnected young people

Establish coalitions and partnerships focused on supporting at-risk and disconnected young people

Designate an entity in every municipality or region responsible for supporting disconnected young people

Significantly strengthen the capacity of organizations that serve at-risk and disconnected young people

Invest in expanding supports and services for at-risk and disconnected young people

Invest in high-touch case management for at-risk and disconnected young people

Invest in tackling chronic absenteeism

Invest in strengthening pathways from disconnection to employment
Report Advisory Group
Since May 2023, we have worked collaboratively as the Advisory Group in support of BCG's research and analysis to create this report. As Advisors, we provided input at various stages of the report development process, including crystalizing the report's purpose, elevating key insights from stakeholders on the ground, evaluating the analytical findings, and refining the recommendations.
We believe this report is novel in its focus on both older youth (aged 14-17) and young adults (aged 18-26). It also effectively articulates the critical challenges Connecticut's young people are facing and provides a roadmap for driving change. Our hope is that this document is used by policymakers, educators and district leaders, and all stakeholders invested in shaping the future of our state.
We proudly endorse this report and encourage its widespread consideration.
In partnership,
Christopher DiPentima President & CEO, Connecticut Business & Industry Association
Mike Lawlor Associate Professor in Criminal Justice, University of New Haven
Hector Glynn Chief Operating Officer, The Village for Families & Children
Martha Stone Executive Director, Center for Children's Advocacy
Thea Montanez Chief Operating Officer, City of Hartford
Kevin Walston Superintendent, Danbury Public Schools